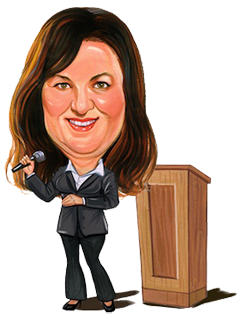 Speaking
As the founder of Heart of Culture, Jackie Lauer facilitates workshop sessions, host keynote speeches, and various other events. Take a look below and see where you can find Jackie.
5 minute keynote at DisruptHR
Upcoming Events
What Neuroscience Tells us About Building Happy High Performance Teams

The Ontario Association of College and University Housing Officers (OACUHO), Ontario
May 28, 2018

How to Design, Curate and Nuture Your Workplace Culture

Stratford & District HR Association
April 24, 2018

Building Confidence, Developing Resilience and Managing Perfection

GM Women of Influence Symposium, Ontario
Oct 27, 2017

A Culture of Inclusion: Promoting Workplace Diversity and Belonging

HR Hot Topics, sponsored by Gowlings, Kitchener Waterloo, ON
Nov 14, 2017
Past Events
EQ and Resilience: Laughing Your Way out of Stress

P2P Communitech, Waterloo, ON
May 9, 2017

Happiness at Work: Creating a Culture of Wellness

University of Guelph, Guelph, ON
May 3, 2017

Resilience: Our Culture Capital

Unitron, Niagara on the Lake, ON
April 11, 2017

Importance of Culture: Start Up Recruiting

Accelerator Centre, Waterloo, ON
Mar 30, 2017

Workplace Culture & Happiness

Chamber of Commerce, Waterloo , ON
Jan 24, 2017

Power of brain science and the colour orange – how to lead positive performance

HR Hot Topics 2016, St. Georges Hall, Waterloo, ON
Oct 19, 2016

What the Hell's a Personal Brand and How Do I Get One?

Wise Women Event, Walper Hotel, Kitchener, ON
Sept 8, 2016

Workplace Culture: How to Create It, Nurture It and Change It

ITS Leadership Forum, Toronto, ON
April 11, 2016

The Importance of Change Management Strategy in Culture Change

Association of Change Management Professionals, Toronto, ON
June 2016

6 Rules of Emotional Intelligence for Small to Medium Business Owner

Launchit Minto, Harriston, ON
Feb 11, 2016

Leading Innovation: Creating Innovation Cultures

Invest Barrie, City or Barrie
August 24 , 2015

Resilient Leadership: Why EQ Matters

ATS Automation, Communitech, Kitchener
April 14, 2015

Workplace Culture: How to Create it, Nurture it and Change it

HR Net, Communitech, Kitchener
May 12, 2015

Creating Happy High Performing Workplace Cultures

St. Georges Hall, Waterloo
February 5, 2015

Building an Epic Life: Career Planning

Women in Technology, Communitech
February 18, 2015

Coaching and Communicating for Performance

University of Guelph
February 26, 2015

Working Together in the Real World

Stratford Accelerator
November 4, 2014

Neuroleadership and EQ: Engaging Great Minds at Work

Human Resources Professional Association, Grand Valley
November 18, 2014

Culture Matters

Fibernetic's Culture Celebration Event, Kitchener
June 26, 2014

Leadership and Your Personal Brand

Chamber Young Professionals, Waterloo
April 15, 2014

Succession and Retention for Not for Profits

Communitech, ED Network, Waterloo
March 19, 2014

Neuroleadership – The Neuroscience of Collaboration

Brant Human Resources Network
February 20, 2014

Trust – A Competitive Differentiator, Essential to Workplace Culture

Human Resources Professional Association Conference. Toronto, ON..
January 22, 2014

Communication Tactics for Supply Chain Leaders

PMAC National Conference. Ottawa, ON.
June 13, 2013
Sample topics
Culture Eats Strategy for Breakfast
After sharing stories of what makes for an amazing culture where people love to work while driving results, Jackie opens up the audience's eyes to what culture really is and how it works.
Sharing what's really driving the company, she shows how culture change can actually happen immediately, by demonstrating how the culture of the room can change in a moment.
Now that the audience understands the power of culture, how it works, and how it can change, Jackie leaves the group with three high leverage tools that can be used immediately to create long-term change and ignite the human spirit at work.
Values Based Companies
Values-based companies have employees who manage and motivate themselves. Jackie shares stories of the strength of the core values at companies like Zappos.com, Starbucks and Southwest Airlines, then share the science behind why they work so well.
Once you learn the secrets behind how values work Jackie takes the group through a process of becoming familiar with their own core values. Finally, she leaves your audience with a process to use in discovering and then implementing the values across your organization.
Unlocking the Power to Lead: EQ in Action
Learn why Emotional Intelligence (EQ) is essential in today's organizations and how increase your power as a transformational leader through awareness, optimism, and empathy.
EQ is the ability to use emotions to relate to people, sustain motivation, and live your highest intentions. Jackie's dynamic, humorous, and interactive style leaves audiences motivated to apply EQ in their lives and work and ready to pursue practical actions.
Jackie will outline how to increase your EQ and those in your organization to get more of what they want from life and how to create an effective organizational culture garnering leadership growth and business excellence. She will also share her experiences coaching leaders to expand their emotional intelligence and a unique perspective on forming an effective organizational culture or climate.
The Anatomy of…
Inspired by the core values of The Heart of Culture, this series of sessions outlines the key elements of a value-based culture, successful leadership, and successful organization. Jackie outlines each in an impactful way to ensure you can apply the insight to your business immediately.
The series includes:
The Anatomy of Great Leaders
The Anatomy of Effective Teams
The Anatomy of a Value-Based Culture
The Anatomy of Successful Enterprise
The Anatomy of Collaboration
The Anatomy of Communication
The Anatomy of Presenting Great Ideas